Scourge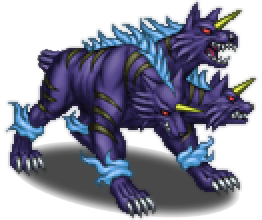 HP

MP

16,600
260

Attack

Defense

Agility

165
130
66

Magic

Mag Defense

Luck

105
105
25

Hit Rate

Phy Evade

Mag Evade

100%
0%
0%

EXP

Gold

PP

5,600
2,850
25.0
Scourge is a boss fought during the attack on Glarefrost. It must be fought twice.
Scourge uses two buffs: Aegis (def) and Glacial Force (atk), both of which can be nullified. Turn 1 he uses Aegis right away. You can ignore that as you won't be attacking yet. Just have everyone charge/magic charge.
Next turn he will kill 2 party members. If you're lucky and he attacks someone like Slash who is charging then the damage won't kill him. Don't bother reviving anyone until after his next attack Hail 2. If you use a hearten too early then they're just going to die again.
After he uses Hail 2 you have 2 turns to recover. Hearten the two fallen members and heal up. You should now be in a good position with decent TP on everyone and mostly healed.
He'll use the Glacial Force buff next. Have Asera use the Nullifier (or Enda can cast Nullify if you didn't pick up the that device, or just have someone throw Barre Suds at him) to remove his buff.
That's the hard part. From here on out just manage your healing and attack with Fire 2/3 if possible. Slash's Fire 3 is exceptionally good if you grinded it out already. Xero's Prism Link should also get the job done.
AI Script
Edit
Moveset:
Turn 1 - Aegis
Turn 2 - Sever - Huge phy damage on one
Turn 3 - Sever (immediately again)
Turn 4 - Hail 2
Turn 5 - Do nothing
Turn 6+8x - Glacial Force
Turn 7+8x - Bite

Other moves:
Bite
Snarls
Swipe - Phy att on all
Glaciate - Ice mag attack on all