Fume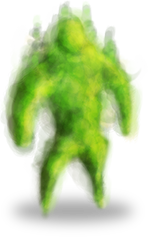 HP

MP

25,130
700

Attack

Defense

Agility

40
300
108

Magic

Mag Defense

Luck

210
160
30

Hit Rate

Phy Evade

Mag Evade

95%
0%
0%

EXP

Gold

PP

5,500
0
30
Fume is an enemy found in the Research Facility in Sandia Jara. It can be fought in the last room after some cutscenes.
Cannot be damaged by poisoned characters. At battle start he'll poison the entire party including himself with Toxin Stream so you'll need to heal the status before attacking. When Fume is poisoned his health regenerates, so nullify him as quick as possible. He repeats Toxin Stream every 4 turns.
AI Script
Edit
Moveset:
Turn 0x4 - Toxin Stream: Poisons the entire field
Turn 2x4 - Blind All: Blind on all enemies
Turn 3x4 - Asphyxiate: Instant fallen on one enemy

Other moves:
Asphyxiate Choke - Non-elemental magic damage with high variance to all. Formula: 850 + (a.mat * 4) Isolate - Ice damage on one enemy that causes confusion.