Barclyss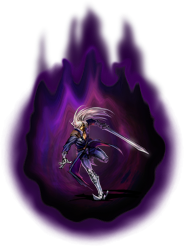 HP

MP

Attack

Defense

Agility

2

Magic

Mag Defense

Luck

Hit Rate

Phy Evade

Mag Evade

%
0%
0%

EXP

Gold

PP
Barclyss is the final boss in Forever Home. This page is for the first form in the Affliction dungeon.
Barclyss appears with 4 orbs surrounding him - (Attack orb, defense, magic, magic defense). If you destroy the attack orb then his ATK drops significantly, destroy the defense orb and his DEF drops, etc. You should be able to kill the ATK and DEF orbs with a couple strong magic attacks each like Ice 4 or Fire 4 or Eidol's Macrocosm. You can kill the MAG/MDEF Orbs with a few strong physical attacks like Xero's Falling Star 2 or the Gale Cut/Storm Cut combo.
A good combo to use on Barclyss is to hit him hard with a strong spell like Macrocosm or a good Summon and then immediately have Xero use Echo to repeat the damage. Some other strong moves are Enda's Tatsumaki, Xero's Eternity Rising, or Asera's Crescent Nova (craftable after his sidequest).
Make sure to equip mostly Spike shards like Attack Spike, Magic Spike, Agi Spike, Construct Spike.
Also note that his stats scale up slightly based on your team's average level, so even at high levels don't go in unprepared.
AI Script
Edit
Moveset:
Turn 2x9 - Crystal Cutter: Hp down to 1
Turn 3x9 - Arc's eyes glow red with flames!
Turn 4x9 - Uses powerful Fire attack. Use Flare Shield to block
Turn 7x9 - Arc's eyes become encased in ice!
Turn 8x9 - Uses powerful Ice attack. Use Frost Shield to block
Other moves:
Jagged Fist - Weak damage + blind/silence
Non-elemental mag attack
Strong phy att