Arc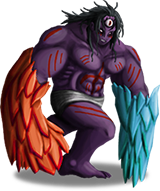 HP

MP

52,000
999

Attack

Defense

Agility

268
340
75

Magic

Mag Defense

Luck

268
240
50

Hit Rate

Phy Evade

Mag Evade

95%
0%
0%

EXP

Gold

PP

3,800
1,200
18.0
Arc is an enemy found in the Heyama Stadium. It can be fought in the last battle of the Singles Rank (#30).
Needs to be hit by each element once. Each element hit deals around 5000 damage and then locks it so that element won't hurt it again. You can't just spam all elements though, they need to have some power behind them otherwise he'll be left with a good amount of HP and no way to damage him. His physical and magic damage reduction is 80% otherwise.
Bring lots of summons for each element and charge up your TP a bit before using each. Also when his "eyes glow red with flames" you need to use Bounce to reflect back Fire 4 on the next turn. The same goes for his Ice 4 when his "eyes become encased in ice". Alternatively you could use Flare Shield (Slash Shard) or Frost Shield (Asera Shard) to block them.
AI Script
Edit
Moveset:
Turn 2x9 - Crystal Cutter: Hp down to 1
Turn 3x9 - Arc's eyes glow red with flames!
Turn 4x9 - Uses powerful Fire attack. Use Flare Shield to block
Turn 7x9 - Arc's eyes become encased in ice!
Turn 8x9 - Uses powerful Ice attack. Use Frost Shield to block
Other moves:
Jagged Fist - Weak damage + blind/silence
Non-elemental mag attack
Strong phy att